Inline Swine Social Skating Group
Last Updated June 4, 2017

The Inline Swine of Houston have been skating together since 1992.
We are the oldest, continuously skating, group in Houston.
-------------------- Announcements --------------------
Now the starting location Tuesday and Thursday is Carnegie Vanguard High School.
The street address of the entrance of the parking garage is 1308 Taft, Houston, TX 77019
We use the ground level as it is covered. Map link: Carnegie Vanguard HS Parking Garage .

We have an automatic email list system.
You can sign up by using our Email List Manager
When you sign up you will first get an email asking you to confirm your wish to join.
In response to clicking on the confirm link you will get a Welcome email and you will
be on our new list. Please save the Welcome email as it contain several useful links. One is
where you can change your password. Another is a way to remove youself from our email list.

If you have any questions please email Chuck
--------------------------------------------------------------
The Inline Swine is a friendly group of skaters. No Skater left behind.
We skate on inlines and roller skates. Some 'Skaters' even use bicycles.
Skating is done on Tuesdays, Thursdays and Sundays typically.
On Tuesdays and Thursdays be ready to skate by 7:45 PM.
The Tuesday skate is about 13 miles with a 30 minute rest stop. We regroup as needed,
however after the rest stop a fast group may take off. If you get dropped by the fast group,
and you do not know the route, just wait for the following group.
Currently the Thursday skate is the same as the Tuesday skate except you should be on our
Email List just in case.

The Tuesday and Thursday skates return about 10 PM.
The starting point is the Carnegie Vanguard HS Parking Garage .
Sunday we skate in the morning. Important note: This skate normally does not leave from
the Carnegie Vanguard HS parking lot.
Please get on our email list to get notice of where, when, and if any given Sunday skate will start.

Lately the Sunday skate has been leaving from Stude Park. Please see the email for details.
Meet in the Stude Park parking lot near the pointer in this map.

Another starting point for the Sunday Skate is Terry Hershey Park where
we skate on the Buffalo Bayou Bike Trail. Parking is under Sam Houston Tollway (Beltway 8).
From there we head west. This is a challenging route for skaters. There are sharp turns and
steep sections that require heavy use of your brake skills.
First timers should consider using a bike. Map to Terry Hershey Park starting point
If you have any questions please email Chuck
There are various "ad hoc" skates such as The Silly Hat Skate, The Saint Patrick's Parade,
The Art Car Parade, Thanksgiving, Skate the Lights at Christmas, Fourth of July, and other
skates as you desire.
Stanley on bagpipes plays Happy Birthday for Kimber, May 16, 2017

Video by Chuck In Houston
2016 Lights in the Heights Group Picture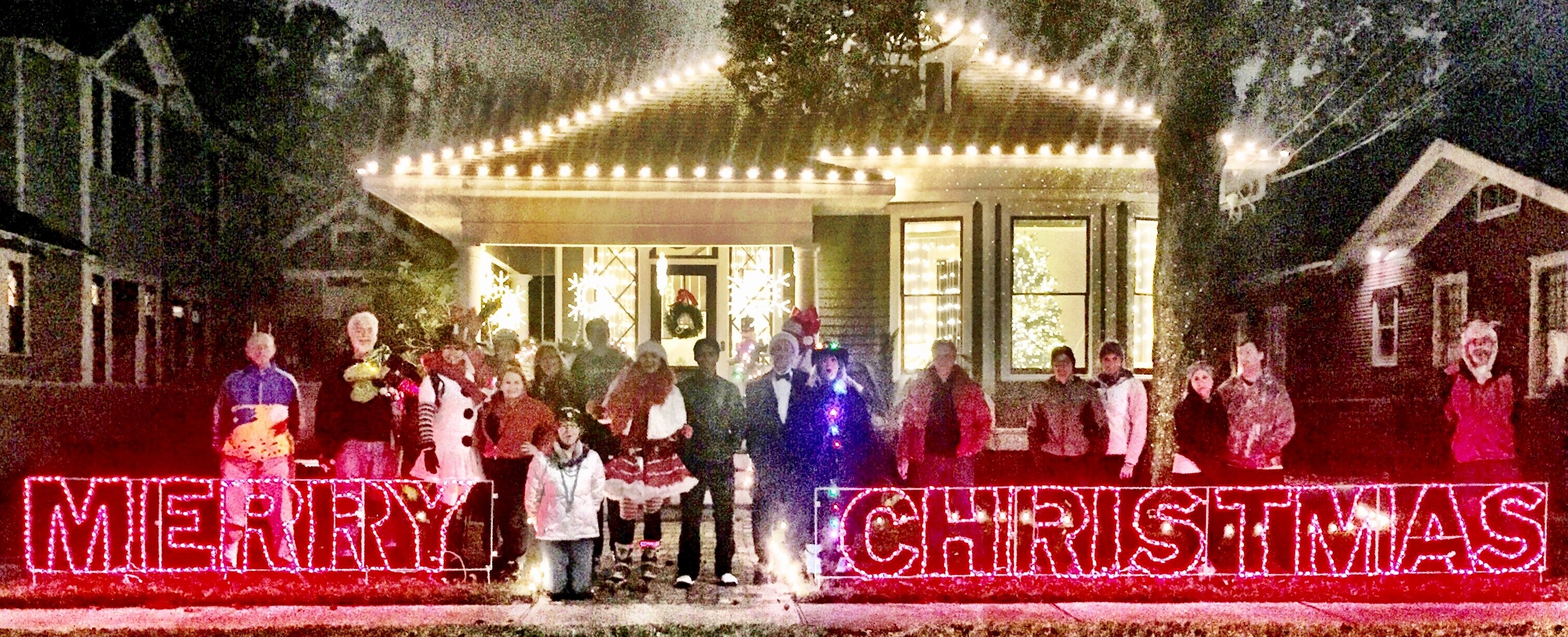 Half Skaters, Half Bikers. Great Group Nov 1, 2016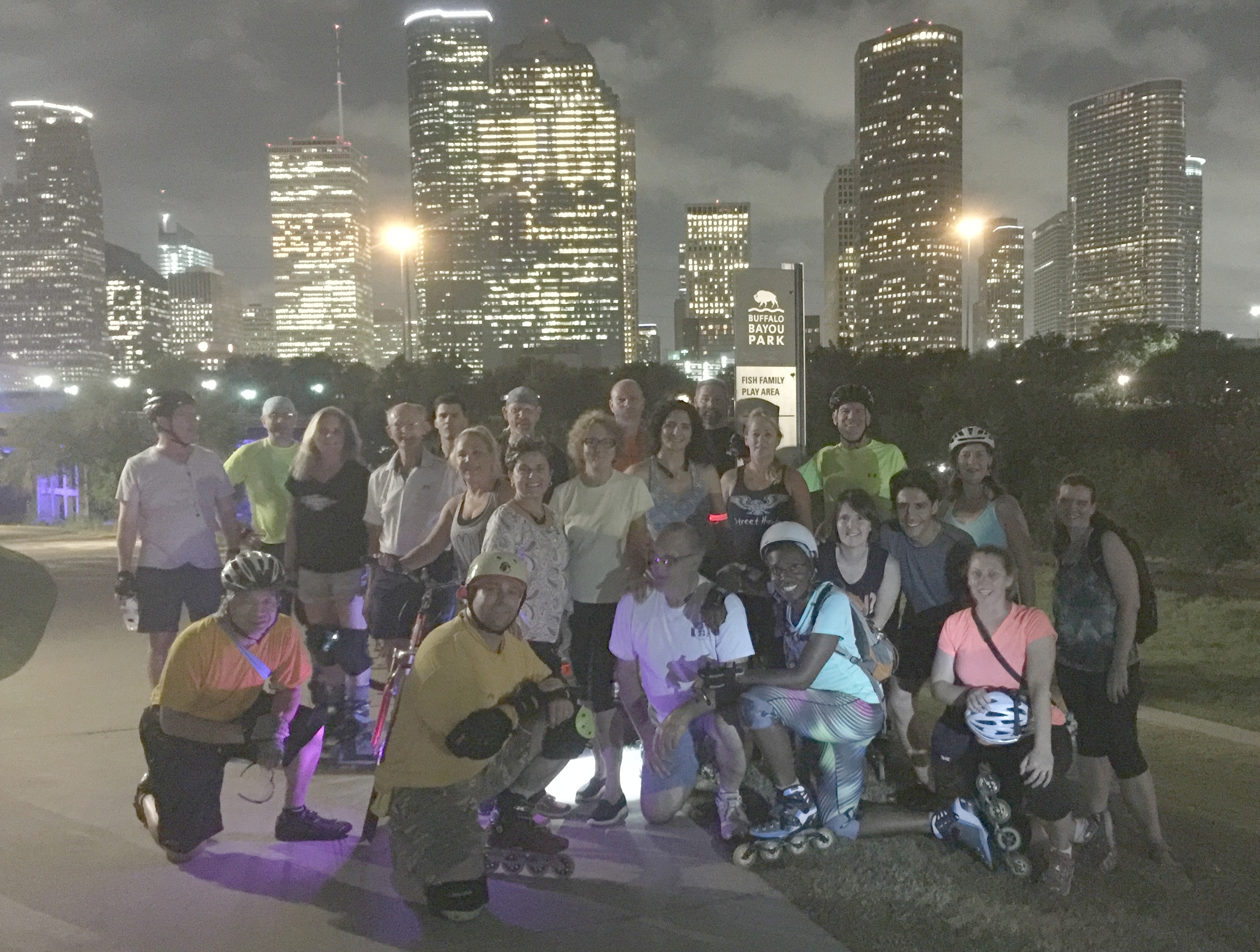 The Houston Epic Skate on May 4, 2013 was a great success. Many thanks to Laurie for putting it all together.
And look who showed up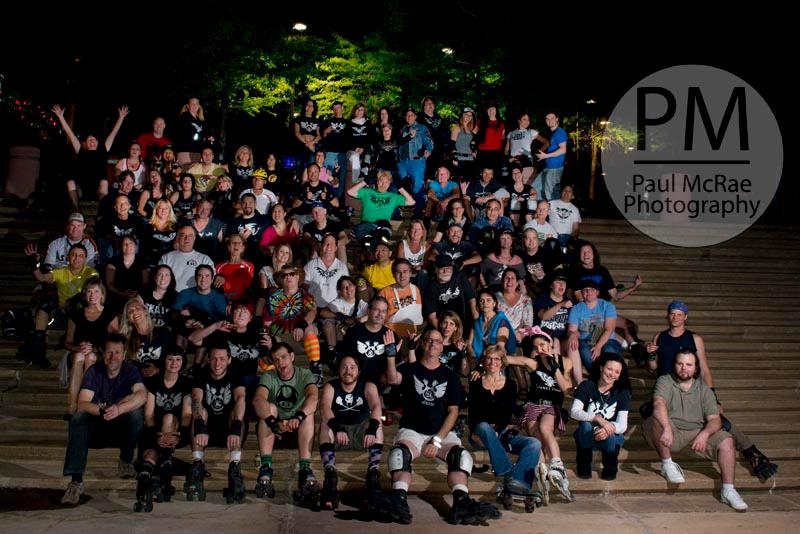 2012 Breakfast Taco Brewery Skate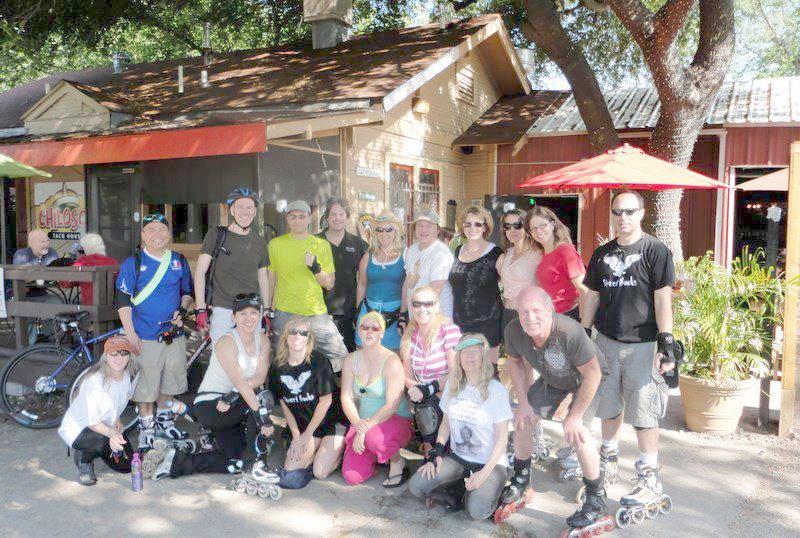 Group Picture Halloween Skate 2012 Link to more Halloween pictures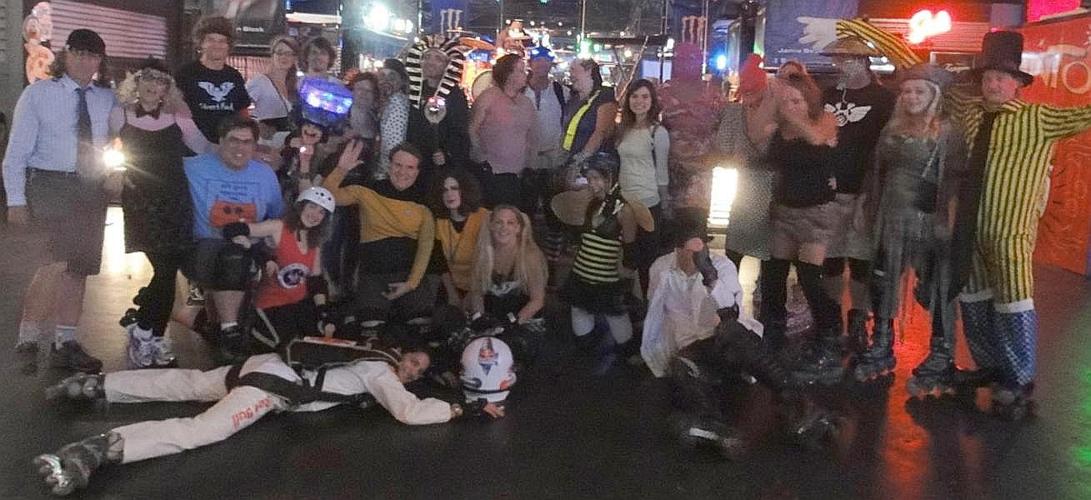 Christmas 2012 Group Picture by Harwood Taylor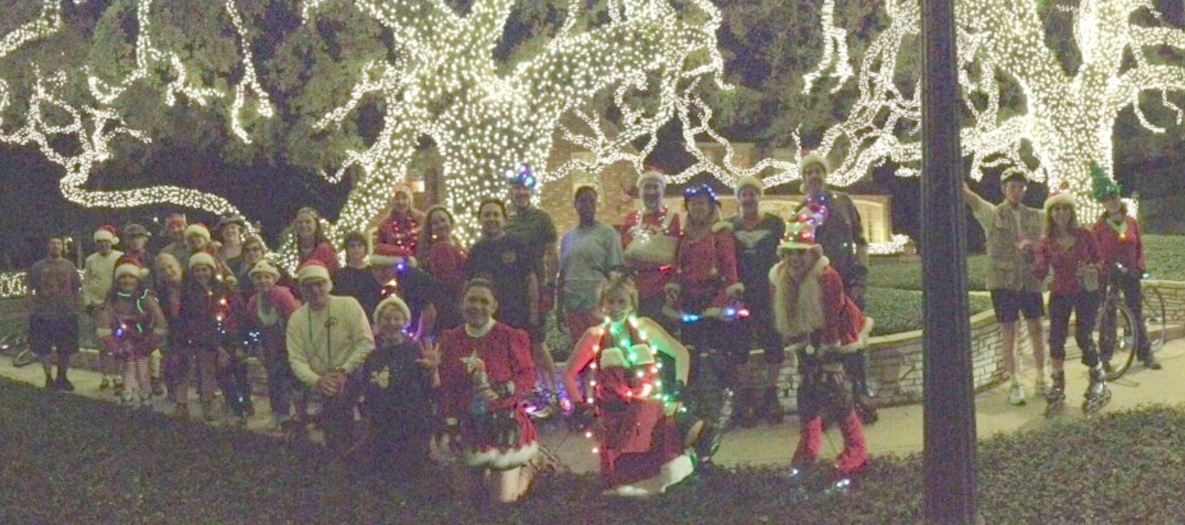 A special skating event we put on was "Houston Hot Roll". This was a series of events that
began Friday, June 29, 2012, continued on Saturday and Sunday. This was put on for a group of skaters from
Dallas who had been invited to Houston by Sam O. On Sunday we skated from TAS to El Pueblito
restaurant. After lunch we skated some more. A few pictures are here: Lunch and Down Hill Skate

Robert's last Houston skate was Aug 23, 2012. He is moving to San Antonio. At the last minute the
Fitness Skate and the Social Skate decided to skate together. And to let Robert lead. He choose to take
us on his 'Fountain Skate'. A few pictures were taken. One group picture in front of a large fountain, and
two when we stopped for refreshments. Pictures


Lee is retiring. He and his wife have moved to Thailand. Pictures of Lee's Retirement Skate.


If you have any questions please call or email either
Chuck Bridgman 713-478-5030 Chuck@InlineSwine.org or
Scott Woodward 281-300-5211
Email to ask to be put on our email list.

Here is a video of one of our skates.

Video by TreesOfBaylor

For an extra thrill, a few skaters enjoy - mostly - a Ramp Romp. Note: You can skate on Dry ground.

Video by Chuck In Houston

We suggest that you wear knee pads, wrist guards and a helmet. Your choice, but our
experience says they are a good idea. A small flash light and/or red blinking "tail" lights
are also suggested for the evening skates.

Copyright © 2011, 2012, 2013, 2014, 2015, 2016 and 2017 Charles P. Bridgman, All rights reserved.